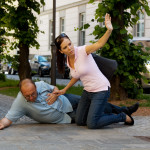 CPD can be gained from completing Appointed Persons First Aid training from ProTrainings and this can be completed all online using their video online training platform.
Businesses in the UK have to make correct provision for first aid in the workplace and the Appointed Persons course is ideal for small businesses as well as extra coverage in medium to large businesses. This course is taught under the guidelines of the HSE First Aid at Work Regulations 1981. If you require a classroom course EFAW is ideal but this course is 100% online saving you time and money to comply with your training requirements. The certificate is valid for 3 years and to renew you complete another appointed persons course.
This course can be completed 100% online unlike the other workplace courses as it is designed to give an employee a basic understanding of first aid requirements and basic treatments. The HSE recommend that all first aiders complete an annual first aid refresher course and our online course meets this requirement.
The content of this and all ProTrainings courses have been independently certified as conforming to universally accepted Continuous Professional Development (CPD) guidelines and come with a Certified CPD Statement as well as a ProTrainings Certificate and for online courses an Evidence Based Learning statement.
This course comes with 4.0 hours of CPD, although the time to complete the course online may be less than this. Total course time includes 2 hours and 49 minutes of video training as well as knowledge reviews, final test, remedial help and reviewing downloaded material.
For more information visit www.proappointedpersons.co.uk or call ProTrainings on 01206 805359