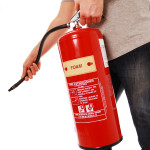 Fire safety is extremely important within the workplace.  Employee and employer actions during a fire could be crucial to their own safety and others within the organisation. Statistics show that most people within an organisation are not aware of potential fire hazards around them and how to deal with an emergency effectively. This course is ideal for everyone, whether you work from home or work within a business. This course will give all members of staff basic fire training to increase awareness and cooperation in the event of a fire in the workplace. Awareness will reduce the risk of fires actually breaking out and therefore saves lives.
Learning about Fire Safety will give you the correct skills needed to deal with a fire emergency should it arise and also to prevent a fire from occurring. This course can be taken as a classroom course nationally with an approved and monitored ProTrainings instructor or it can be taken online using video based learning.
If you choose our online course you will be able to view the videos for 8 months to keep you up to date with your skills and to see new videos as we add them, this access is available even after you have finished and passed your test.  We also include access to videos, weekly refresher videos emails and news updates if you are completing one of our classroom courses.  All students receive a free login area to our website where you can download a free student manual, print off your certified CPD statement and access other material.  Online students can print off their certificate online on completion and classroom students will receive an official ProTrainings wall certificate and wallet card in the post after the course.
The content of this and all our courses has been independently certified as conforming to universally accepted Continuous Professional Development (CPD) guidelines and come with a Certified CPD Statement as well as a ProTrainings Certificate and for online courses an Evidence Based Learning statement.
To book on an online course you simply register at www.profiresafety.co.uk and for a classroom course look at www.procourses.co.uk or call ProTrainings on 01206 805359, email on support@protrainings.uk or use the online chat from any online website.
Some of the subjects covered include:
The Importance of Fire Safety

The Law
The Problem and How you get Harmed

Causes, Prevention, Training and Alarms

The Fire Triangle
Sources of Ignition
Active and Passive Fire Spread
Arson
Aerosols
Fire Prevention
Good House Keeping
Training and Staff Awareness
Dangers of Smoke
Types of Fire Alarm

Emergency Equipment and Response Actions

Fire Equipment
Calling the Fire Service
Fire Extinguishers
Breakdown of a Fire extinguisher
Fire Hoses
Fire Alarm Systems
Evacuating in an Emergency
Fire Doors
Fire Blankets
Fire Warden Kits
Appropriate Clothing
Smoke Alarms in the Home
Fire Proofing the Home
Fireworks

Risk Assessment and Hazards

Formal Risk Assessment
Review of Fire Safety