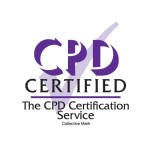 CPD is often a hard thing to arrange and with ProTrainings you can choose form over 200 classroom courses and over 100 video online courses. Having video-based training that is delivered over the Internet means you can learn from anywhere you have access to a computer, tablet, or smart phone. Take the training in short segments as your schedule allows and prepare yourself for the most flexible training programme available. After completing a ProTrainings course, you will be more confident in your knowledge and skills. Now, you can print an evidenced based learning statement to show your employer how you did and prove your mastery.
ProTrainings have been independently verified by the CPD certification service and all of our courses will earn you official certified CPD credits to use for your continuing professional development requirements. Printing your CPD conformance statement through the website is quick and easy after you have completed your classroom or online course.
Whatever your training requirements, ProTrainings have a solution that will exceed your expectations. With hundreds of instructors around the UK, finding a classroom course couldn't be easier. Or experience the ultimate in flexibility with an online or blended course. Whichever route you pick, you won't regret choosing ProTrainings.
For more information call ProTrainings on 01206 805359 or email support@protrainings.uk.  You can also visit www.protrainings.uk